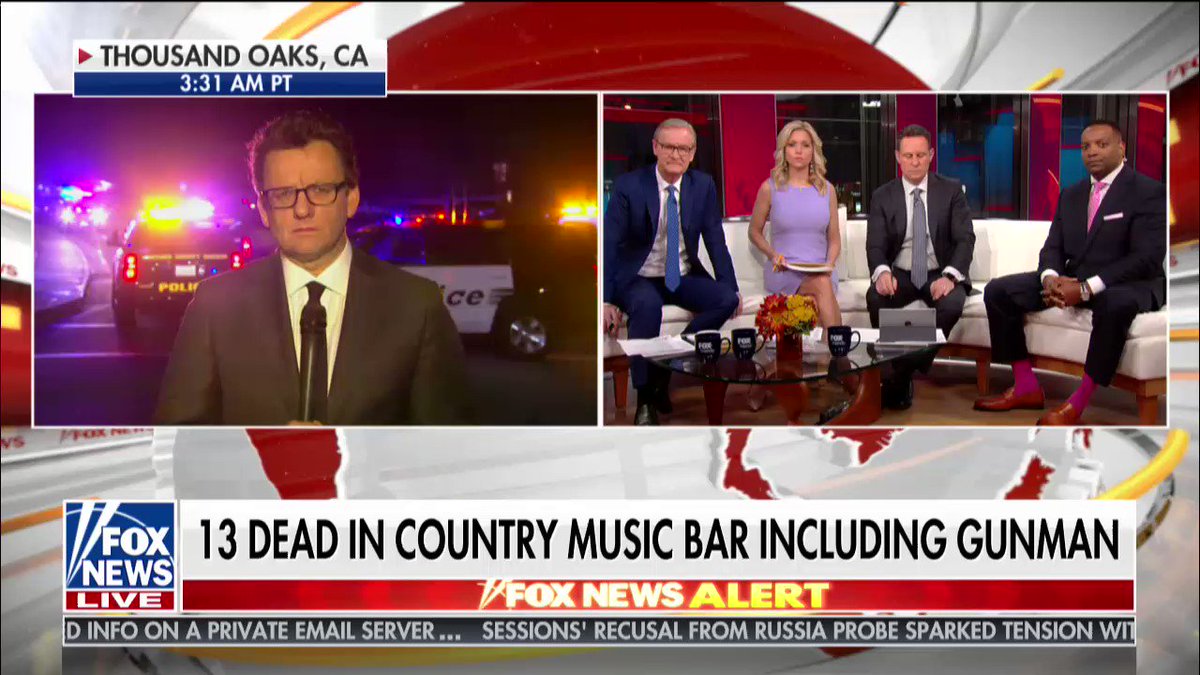 California bar shooting leaves 12 dead, including sheriff's sergeant, police say https://fxn.ws/2Da13Zx 
Replies
Replying to @JScottMcPhee @Thom1120x and 2 others

Doesn't really matter when there's no border checks between states does it? Same for Chicago: really easy to bring in guns from elsewhere

Replying to @PinkFreud90 @JScottMcPhee and 3 others

My point is it's an awful argument against gun control; when clearly state laws are not preventing mass shootings. Should be federal laws for gun control.

Replying to @ashlingplunkett @JScottMcPhee and 3 others

If state laws wont prevent mass shootings, you think federal laws will solve the problem? Which are even more disconnected to the problem. How much has federal laws on drugs stopped people from using? Heroin is illegal on the federal level, how many opioid addicts are there?

Replying to @PinkFreud90 @ashlingplunkett and 4 others

with that rationalization you might as well not have locks on your doors, there are going to be burglars anyway

Replying to @ItsTheLeighton @ashlingplunkett and 4 others

It is illegal to burglarize. So should I feel safe and not take the proper precautions to protect myself and my family if the burglar decides to completely ignore the law? That rationalization is entirely backwards.

Replying to @wachonico @betkaha @FoxNews

No sir, I do not think that will help. Weapons are almost banned in California. This will not help. Criminals always know how to get weapons. Only good people like us will lose weapons rights.

Replying to @moaed200 @wachonico and 2 others

We banned hand guns and assault rifles nationally in 1996 after a massacre that killed 35. We haven't had a massacre since and we have amongst the lowest gun deaths per capita in the world. Sports shooting is not banned, but well regulated. Welcome to Australia 🇦🇺

Replying to @Jeff_Milward @wachonico and 2 others

In Australia everythink can kill u, u don't want to add guns for this,JK, most of gun owners in the us use guns for hunting, shooting in the range and for protection, and this a great experience I see this as an enhancement of the people's freedom

Replying to @FoxNews

We need to arm yoga studios, houses of worship, grocery stores, schools & bars. And firefighters will now use flame throwers instead of hoses.

Replying to @araviland @FoxNews

It would be more prudent to simply change culture back to family and faith. Stats show that natural born people with families and who are also dedictated to an eastern or western faith are the least likely to commit any crime.

Replying to @TreyMcMillan83 @FoxNews

People are literally committing murder in houses of worship. Faith won't fix this.

Replying to @TreyMcMillan83 @FoxNews

What I'm saying is that you can't rely on faith. Unfortunately, it's always been part of the problem.

Replying to @araviland @FoxNews

It's a piece of the solution, not the problem and don't rely on faith at all, but it starts with faith and family.