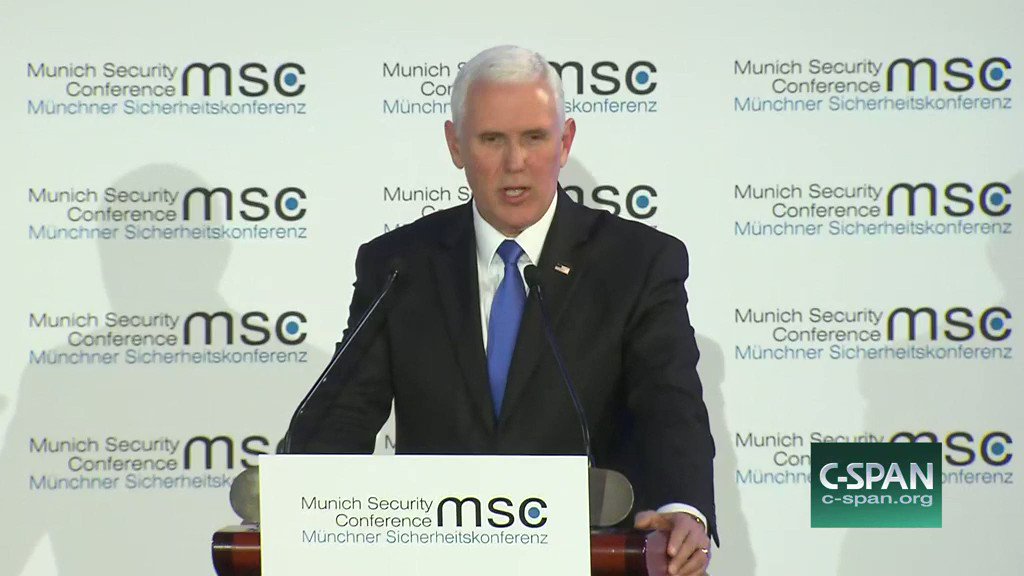 Mike Pence: "I bring greetings from the 45th President Donald Trump"....pause ...and nobody claps hahaha
Replies
Replying to @NightlyPolitics

Heart breaking that your rehearsal in front of the mirror with Mother wildly cheering you on didn't work out as was hoped @VP . Keep trying ! Maybe the talent show in Federal Prison will get you bigger warmer hands !

Quoted @ellievan65

Pence spoke at an award ceremony on Friday at the annual Munich Security Conference afor the first recipients of a scholarship commemorating the late Sen. John McCain (R-Ariz.) This is the reception he got to his announcement he was bringing greetings from 45.

Yep - this clip has John Kerry & Madeline Albright looking mortified

Replying to @NightlyPolitics @BeverlyFolkers

Hahaha he actually waited for the applause and then had to continue because there was no applause! This is so hilarious! Thanks for sharing! 👌😂🤣

Replying to @TheUltronz @NightlyPolitics

Yeah that's him all right. I firmly believe that's why Pelosi doesn't want to encourage impeachment-unless it gets them both. She sees Pence for what he is too.

Replying to @NightlyPolitics

whew! this is RICH. and he GOT IT TOO! you can see the thought process, the moment! He shrunk. HA! and yet ego forged him on. smh. rich. too good. Thank You World. Thank You World Stage. WE the American people, are with you. (this is so sad)

Replying to @NightlyPolitics

John McCain award ceremony too? after all that disrespect and slurs from him towards McCain? invoke trump's name at this ceremony? nope. and no. shouldn't have done that - period. that was some big mistake... and no disrespect from this crowd at all. wow.