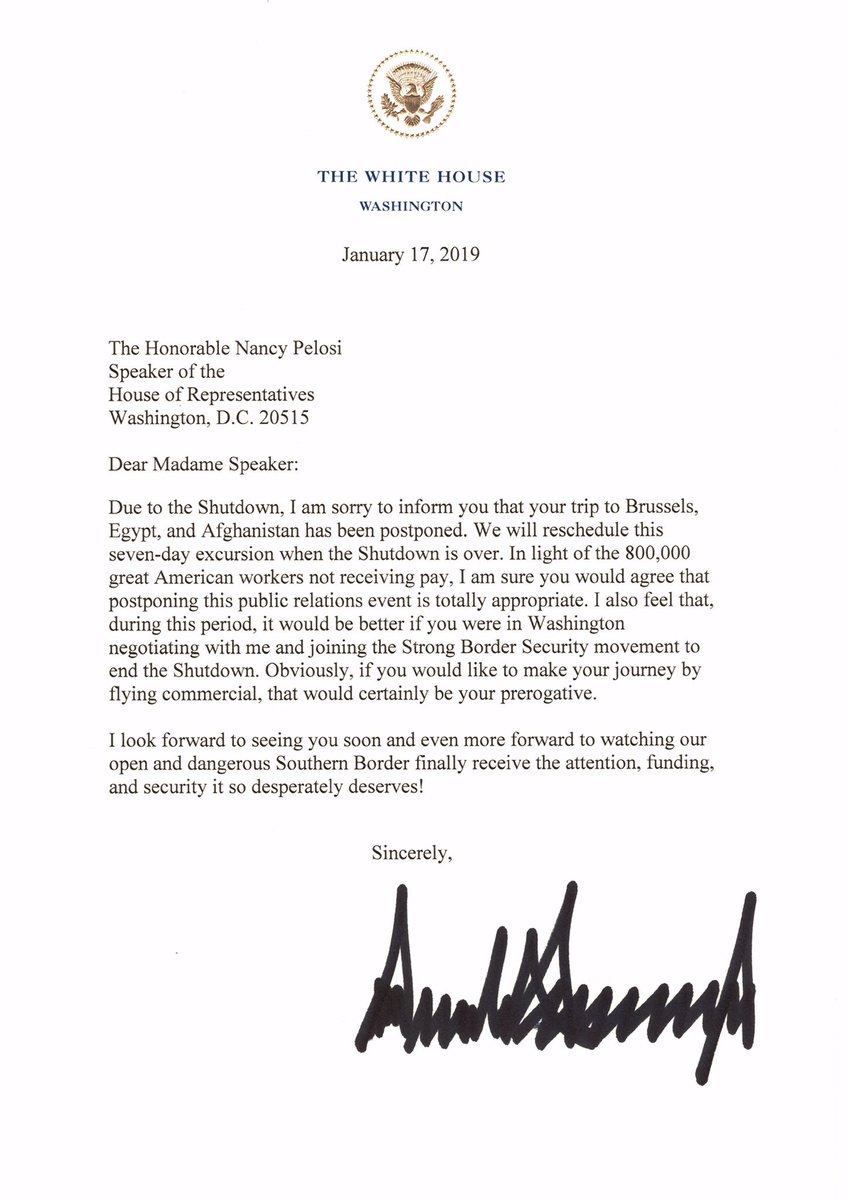 President @realDonaldTrump's letter to @SpeakerPelosi concerning her upcoming travel
Replies
Replying to @PressSec @realDonaldTrump @SpeakerPelosi

Trump denying @SpeakerPelosi, 3rd in line for the presidency, the use of military aircraft for a trip which included visiting troops in Afghanistan – an active war zone Trump has yet to visit – only proves that Trump doesn't give a damn about our troops. He really showed her!

Replying to @stephylwells @PressSec and 2 others

Last time I checked, Nancy Pelosi is NOT Mitch McConnell, who is the one refusing to hold a vote to reopen the government. And if you want to complain about wasting taxpayer money [which visiting the troops is NOT], how about Mnuchin, Jared, & Ivanka's boondoggle trip to DAVOS?

Replying to @hdrapeaux @dcpoll and 4 others

I'm confident the troops in Afghanistan are more than relieved they don't have to see her and pretend to be happy about it.

Replying to @ShellieFlem @WLayne68 and 3 others

Plus she isn't even doing government work or First Lady Business!! At least Nancy was going 2 do her damn job! Make mail order Barbie fly commercial. We have already spent way too much tax payer dough on her. She is cut off

Replying to @ShellieFlem

Did I lie? I was being nice. We ALL know what she really was 😂🤣

Replying to @christianllamar @PressSec and 3 others

LMFAO! You know she's going bonkers right now. She can't have that tax payers free of charge booze on the airlines that she likes to wrap up.

Replying to @timmr6 @christianllamar and 4 others

I pissed my pants laughing. Thanks Mr. President. Today was a good day

Replying to @PressSec @realDonaldTrump @SpeakerPelosi

No surprise that Putin's little bitch Trump cancelled Speaker Pelosi's CODEL to Afghanistan, since it included a stop in Brussels to meet with top NATO commanders, military leaders, and key allies to affirm the US' ironclad commitment to the NATO alliance.