Filmmaker, actor, producer, husband, and father.
Statistics
We looked inside some of the tweets by @robreiner and here's what we found interesting.
Inside 100 Tweets
Time between tweets:
13 hours
Tweets with photos
0 / 100
Tweets with videos
10 / 100
Rankings
(sorted by number of followers)
For the first time in American history we are celebrating a Presidents weekend with a President who has and is conspiring with an enemy power to destroy Democracy. Let that sink in.
It's all in plain sight. Doesn't report Russian mtgs. after Intel warns of election interference. Fires FBI Dir. because of Russia. Campaign Mgr. shares info with Russian Intel asset. Advisor Stone conspires with Russian Intel. On TV asks Russia to help him win. YES COLLUSION!
BREAKING: We're suing President Trump over today's blatantly illegal declaration of a national emergency. There is no emergency. This is an unconstitutional power grab that hurts American communities. We'll see him in court.
By declaring a non-existent national emergency, The Pathological Liar is once again facilitating the slow erosion of Democracy. We must never allow his childish temper tantrum attempts at authoritarianism to become normalized. Keep fighting to preserve US!
Trump is declaring a national emergency to bypass Congress, to build a wall we don't need, to address a crisis that doesn't exist, by claiming an authority he doesn't have. If that sounds like nonsense, it's because it is. It's also plainly unconstitutional.
Well, we can add another sickening example of abuse of power to the ever expanding list of impeachable offenses. To declare a national emergency that doesn't exist, except for the one created by the Pathological Liar, is beyond the height abusive political pandering.
Fact:The President of the United States is a pathologically lying criminal. He is the most corrupt POTUS this country has ever seen. He is beyond impeachable. In a nation of 325 mil., 20 people stand in the way of ridding US of this cancer. GOP you know who you are.
The Liar openly admits to Corruption & Crime every day. He thinks he can lull America into complacency by trying to normalize his Corruption & Crime. It won't work. Whether done in broad daylight or in the shadows, Corruption is still Corruption & Crime is still Crime.
It's one thing to be a racist. To hate because of an ignorant irrational fear of the "other". But when you are the leader of a country and you spew racism to ignite that fear & hatred, violence follows. The Liar is comfortable with that violence. The Liar is a Fascist.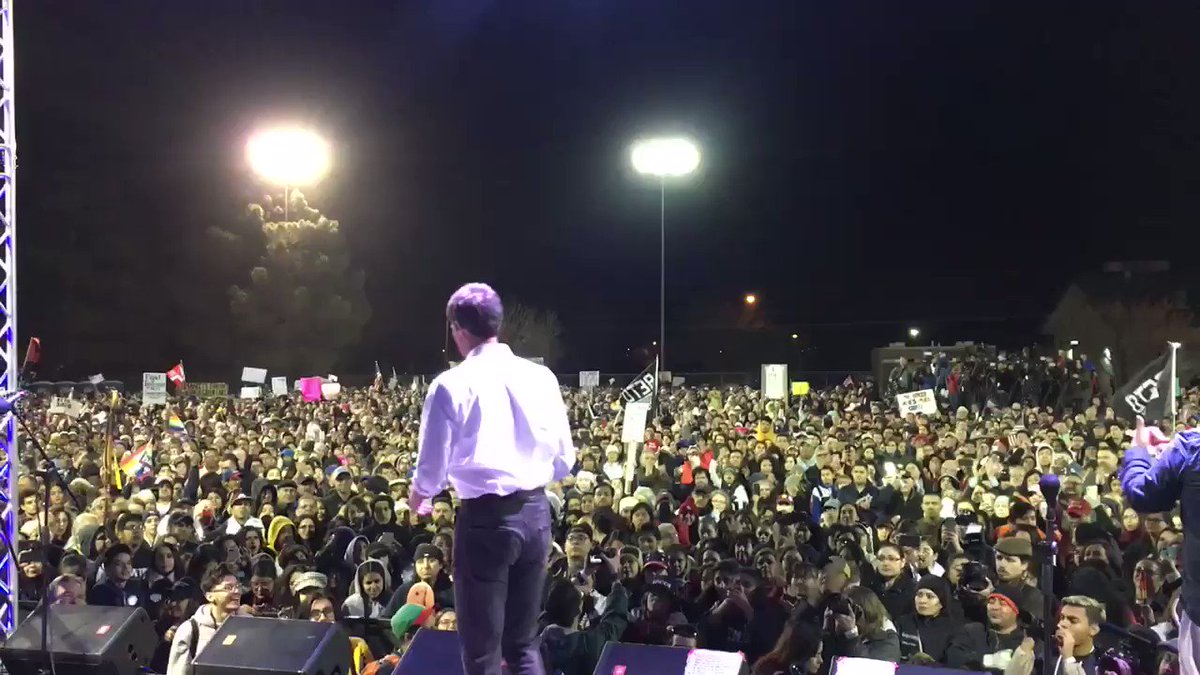 Very very proud of this community. We are the example that the United States of America needs right now.
Step One: Hype an invented threat of an invasion of terrorists, murderers, and rapists. Step Two: Send troops to border to address the imaginary threat. Step Three: Justify the WALL as necessary to protect troops sent to meet the nonexistent threat. Step Four: Executive Time!
In the Battle At The Border The Liar is a LOSER! Beto-10-15 thousand. The Liar-6,500. Go back to the WH and your stolen Presidency, turn on FOX, and start tweeting your bullshit.
The fucking moron strikes again. His grasp of climate change takes its place right alongside of his abject ignorance of public policy governance & the Constitution. In fairness he has his areas of expertise: lying corruption crime & a firm grasp of sociopathic behavior. GO AWAY!!
I want my future boyfriend to look at me the way my parents look at @maddow
The vast web of criminality that has been spun by Donald J. Trump is breathtaking. Every day a new criminal thread is revealed. Democracy is being tested. We are in an out and out war for the soul of America. Stay vigilant.
If Whitaker were to answer honestly and truthfully tomorrow, it would mark the beginning of the end of the Trump presidency. Which is why he'll either lie, obfuscate or invoke phony executive privilege.
Only a sociopath could have no feelings about ripping a child from a parent and traumatizing that child for life. The President of the United States is a sociopath.
Over 2 yrs. ago a foreign enemy power, with the help of the Trump campaign conspired to undermine our Democracy. Finally, after GOP's Kabuki theater, Congress will conduct an honest investigation. Adam Schiff has his eye on the prize. Hang on to your hats!