"An observant, deep-thinker." ^^Someone told me this part of my bio is pretentious. but NO. thinking deep/being observant has it's cons ¯\_(ツ)_/¯
Statistics
We looked inside some of the tweets by @VincentTj_ and here's what we found interesting.
Inside 100 Tweets
Time between tweets:
9 days
Tweets with photos
10 / 100
Tweets with videos
0 / 100
Tweets with links
15 / 100
Now to be honest, I don't really play Kingdom of Loathing? I checked it once but eh... but after playing West of Loathing, now I can only hope that in a few more years, there will be enough creative juices to fuel the creation of another game. Another..steam game?
#GTLive Please continue playing west of loathing I love ya'll ❤️💛💚💙💜❤️💛💚💙💜❤️💛💚💙💜❤️💛💚💙💜❤️💛💚💙💜❤️💛💚💙💜❤️💛💚💙💜❤️💛💚💙💜❤️💛💚💙💜❤️💛💚💙💜❤️💛💚💙💜❤️💛💚💙💜❤️💛💚💙💜❤️💛💚💙💜❤️💛💚💙💜❤️💛💚💙💜❤️💛💚💙💜❤️💛💚
#GTLive Please ▒█▀▀█ █░░ █▀▀█ █░░█ ▒█▄▄█ █░░ █▄▄█ █▄▄█ ▒█░░░ ▀▀▀ ▀░░▀ ▄▄▄█ West of Loathing again @CordyPatrick
#GTLive ▒█▀▀█ █░░ █▀▀█ █░░█ ▒█▄▄█ █░░ █▄▄█ █▄▄█ ▒█░░░ ▀▀▀ ▀░░▀ ▄▄▄█ West of Loathing again
#GTLive @CordyPatrick Is west of loathing going to be continued someday? Really looking forward to it 😞 😞 😞 😞 😞 😞 😞
How to not be involved in a flame war/comment war : After speaking your opinion once, never reply back no matter what.
https://www.youtube.com/watch?v=ox-jguIP-B4 … This is why when Writers act out their script, it's good. Their body language, expressions, and the way they deliver dialogue as an actor is in line with their vision as the writers.
https://www.youtube.com/watch?v=vbBzXPQ4CFk … The subtle, artful beauty of acting. (Key and Peele) In this comedy sketch, it's visible how the guy's facial expression speaks "My bluff bit me back". While the Waiter's confidence and normalcy makes it sound like a very real french sentence, it's not.
so, @HuniePotDev , it's fine if your game defaults to "Girls". You made us be able to pick whether or not Polly was born that way, but you didn't give the option to make other girls "trans" (as someone has pointed out).It's fine because it's your game's "Default". We all do it :)
And what I mean by special accessories is they recolor the character,or give it a bow on the head, or make it wear a dress. That's how the world "HAS" been. And I'm not saying it shouldn't change. I'm just saying, a construct that is set in place takes a LONG time to change.
The conclusion is that we shouldn't punish or be mad at others for assuming things. We all have a "default" for everything. Draw a square, give it eyes, and we default to "it's a male" since cartoons always draw males originally and then give special accessories to the girls.
You will, for at least a split second, assume that gravity still pulls things downwards. Who knows what could've happened while you sleep? but you assume. or when you have a friend who commonly tell lies as jokes, someday say something unbelievable. You would assume it's a lie.
Everyone, in some way, assumes. Assumptions are basically just expectations that your memories are still in line with reality. Imagine this, you wake up. You immediately reach for the glass at the side of your bed, and accidentally moved it too much to the side.
So, additionally, just because I say "She" and a person who is naturally born as a girl pops into your head (instead of a transwoman), doesn't mean you're a "closed minded person".
Humans assume because it's the quickest way to gauge information and perceive the world. When I say "I met a guy" and a white/caucasian guy pops in your head, it doesn't mean you're a white supremacist...right? It's just what you commonly see, so it's natural you'd think that.
Tweets are sometimes the words I don't want to say in real life. It's a pretty safe place when people that know you doesn't use Twitter as often. Thanks @Twitter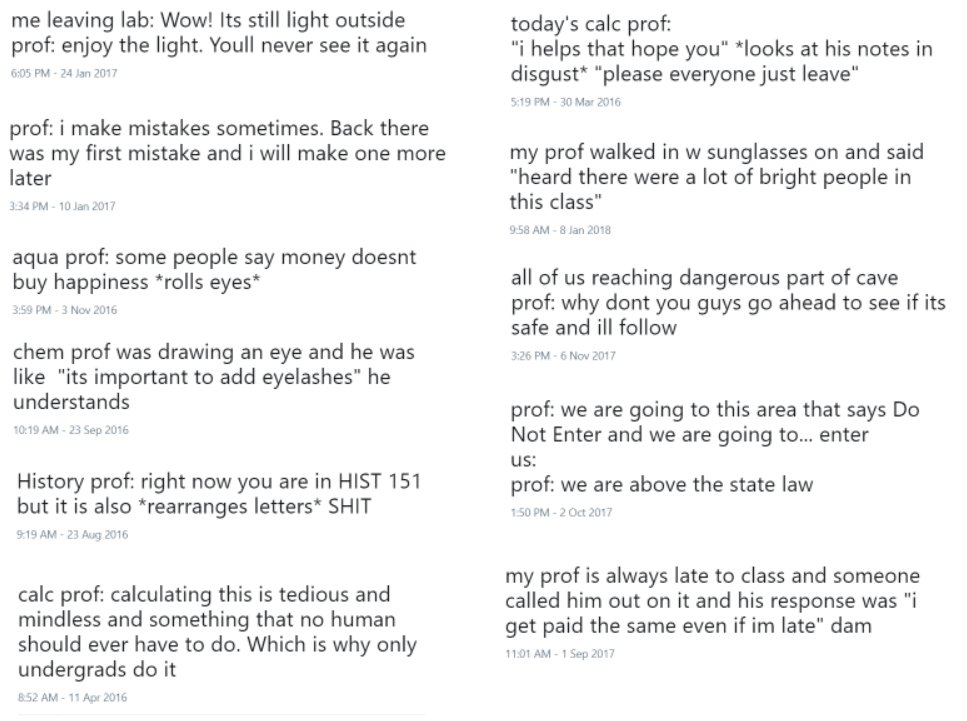 for no reason i compiled my favorite professor quotes from my years at university