Statistics
We looked inside some of the tweets by @Yamiche and here's what we found interesting.
Inside 100 Tweets
Time between tweets:
a day
Tweets with photos
24 / 100
Tweets with videos
0 / 100
A quote from Rev. Dr. Martin Luther, Jr. that I'm reflecting on today: "History will have to record that the greatest tragedy of this period of social transition was not the strident clamor of the bad people, but the appalling silence of the good people."
Quoted @NewsHour
In a fact check of President Trump's claim that there are high numbers of undocumented immigrants committing crimes and in prison, @Yamiche finds the president is "making claims that are simply not true."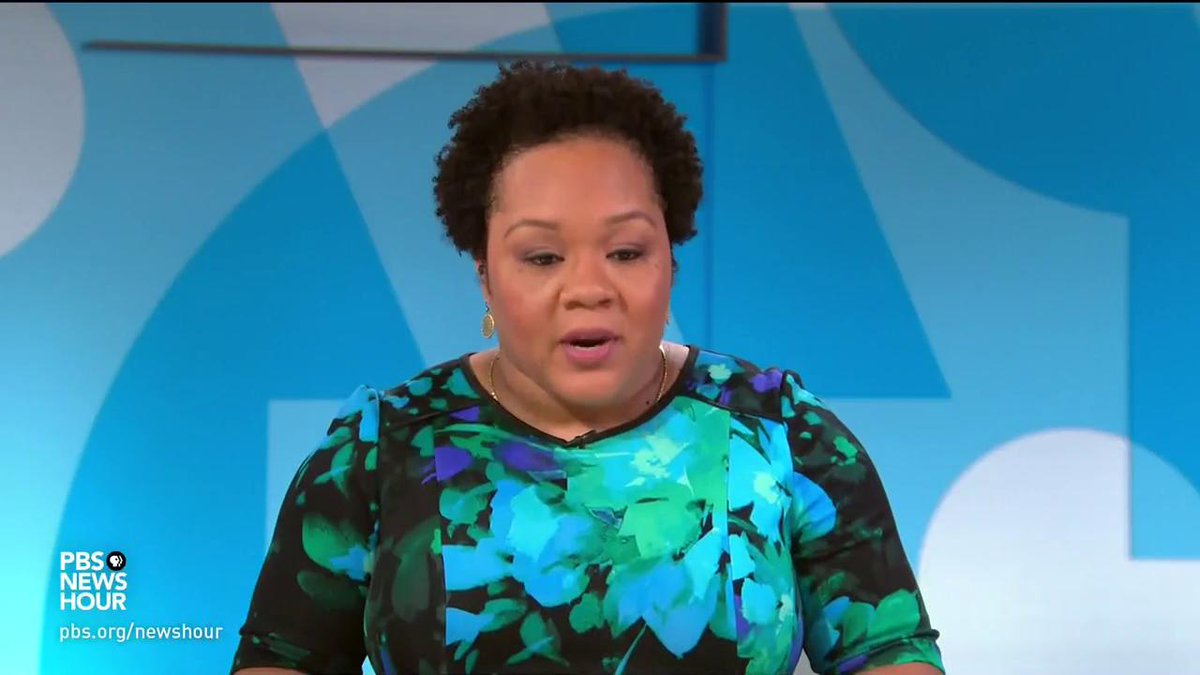 I fact checked some of President Trump's remarks about his national emergency declaration.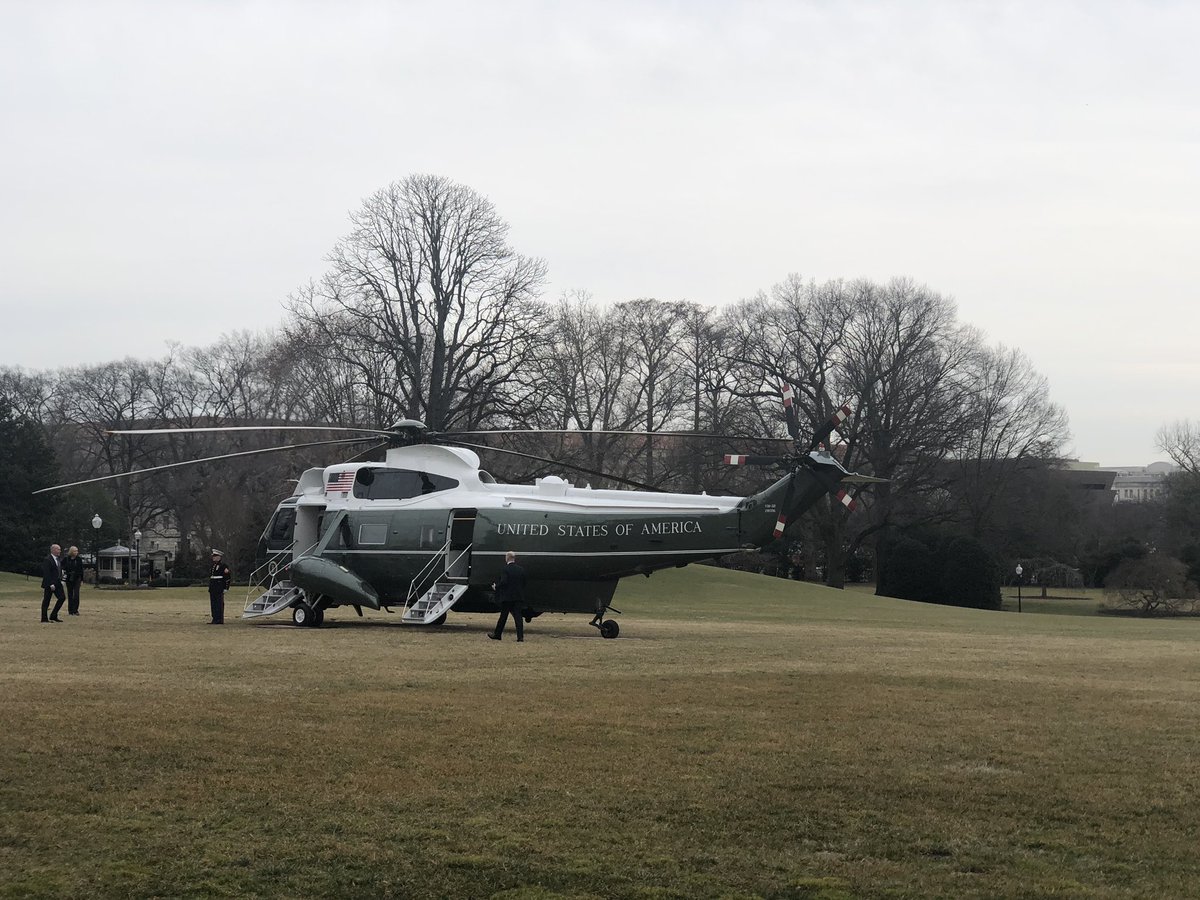 President Trump took no questions on the lawn as he left the White House for weekend in Florida.
Exclusive: Sarah Sanders interviewed by Robert Mueller's office @CNNPolitics
.@ACLU will be filing a lawsuit next week to stop President Trump's national emergency declaration. ACLU president says "This is a patently illegal power grab that hurts American communities and flouts the checks and balances that are hallmarks of our democracy."
The president declared a national emergency, signed a bill to avert the shutdown and will then leave for a weekend in Florida at 4 p.m.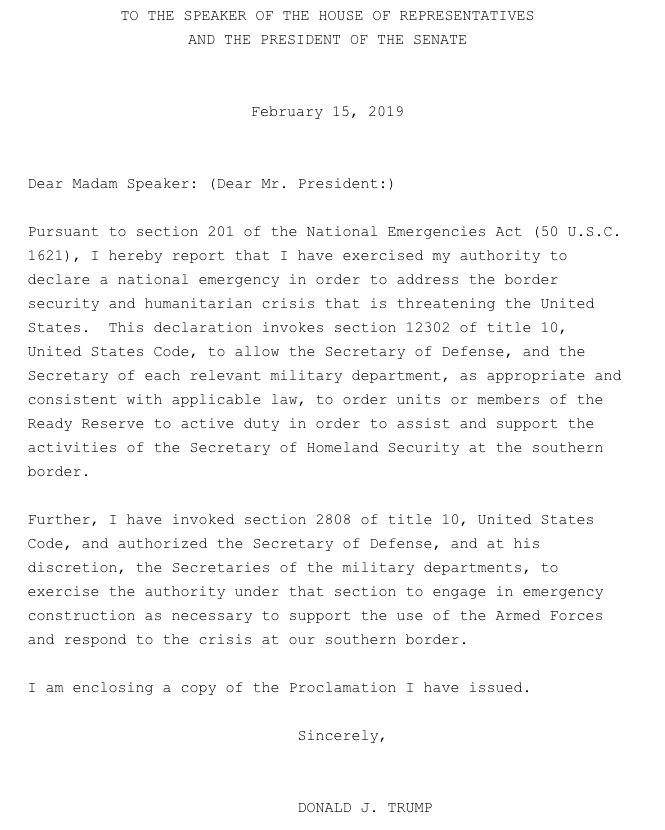 NEW: Letter from President Trump to Speaker Nancy Pelosi: "I hereby report that I have exercised my authority to declare a national emergency in order to address the border security and humanitarian crisis that is threatening the United States."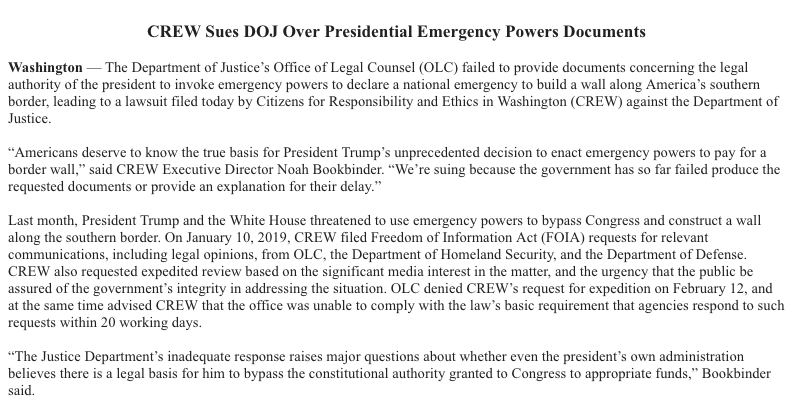 Citizens for Responsibility and Ethics in Washington (CREW) is suing President Trump over his national emergency declaration.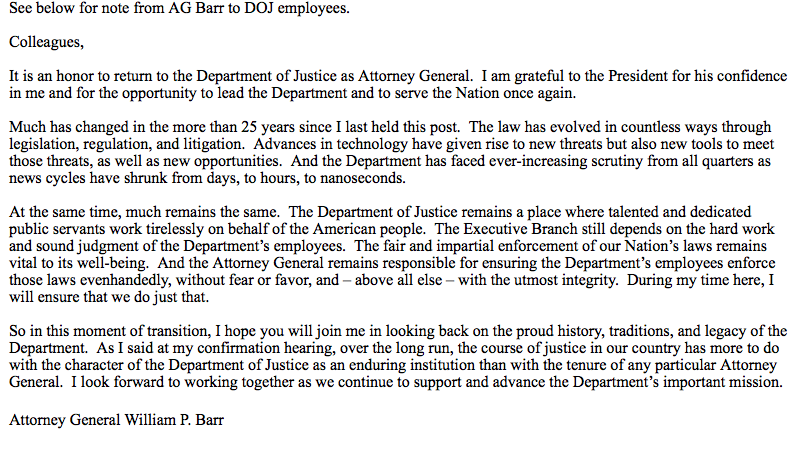 NEW: Here's a memo new Attorney General Bill Barr just sent to all DOJ employees as he returns to a job he also had 25 years ago in the 41 Bush administration.
.@chucktodd explains the implications of the president's Rose Garden press conference on @MSNBC: "It was already a very tough case to make … but he made it a lot harder by essentially admitting this was a political decision."
Also be clear, the president made several misleading statements including that govt data backs up his claims that drugs aren't coming through ports of entry, that there is an invasion, and that human traffickers can never come through ports of entry. Govt datat shows the opposite
My Qs I didn't get to ask: What do you say to ppl who think saying for wks that you'll declare a national emergency before doing so is evidence that it's not a real emergency? How do you reconcile saying Obama subverted constitution and then use him as a model for declaration?
President Trump says President Obama got the Nobel Peace Prize after 15 seconds and that Obama didn't even know why he got the award. Trump then complained, "I will probably never get it."
President Trump now says President Obama was close to going to war with North Korea and that Obama told him the biggest problem was North Korea.
President Trump: "On the Wall they skimped...I've already done a lot of wall for the election, 2020." Note: No new wall has been constructed by the Trump administration yet.
Quoted @PressSec
President @realDonaldTrump signs the Declaration for a National Emergency to address the national security and humanitarian crisis at the Southern Border.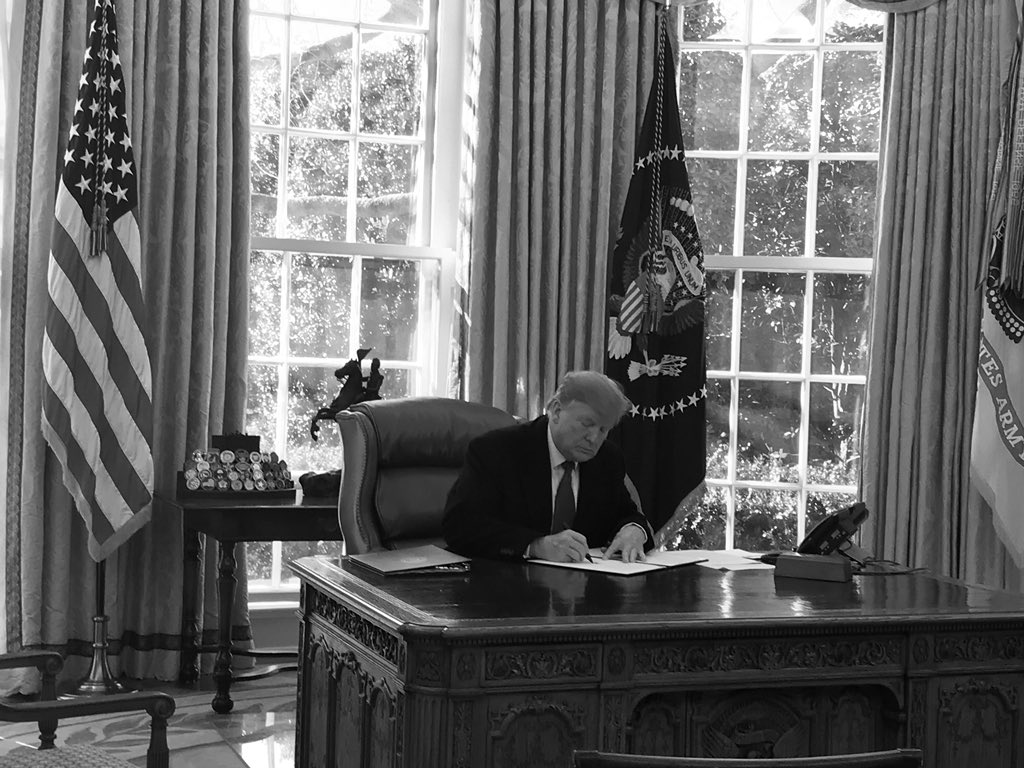 Photo of Trump signing order.
President Trump says the national emergency order has been signed and he'll do final paper work today. "We will then be sued...End up in 9th circuit...Hopefully we will win the Supreme Court."
President Trump is talking about the "incredible talent" in the front row of his remarks. There are a number of officers from U.S. Customs and Border Patrol looking on as well as Secretary of Homeland Security Kirstjen Nielsen.
President Trump says he will use part of national emergency used by President Obama. "By signing the national emergency...We want to stop drugs from coming into our country. We want to stop criminals and gangs."
President Trump is now admiring that some countries give the death penalty to drug dealers. "You can end a drug problem," he says. Note: The First Step Act the president signed was about rethinking how harsh drug laws were in the past.