Dal 2011 arte eccetera eccetera. La più significativa rivista culturale del paese
Statistics
We looked inside some of the tweets by @artribune and here's what we found interesting.
Inside 100 Tweets
Time between tweets:
an hour
Tweets with photos
5 / 100
Tweets with videos
0 / 100
Bright Festival in corso a Firenze: la manifestazione all'insegna delle arti digitali
Il collettivo indonesiano ruangrupa curerà la prossima edizione di documenta 15 a Kassel
Scomparsi a sette anni di distanza l'uno dall'altro, Calder e Miró sono annoverati tra i grandi innovatori dell'arte del Novecento. Una mostra in apertura nella capitale inglese ne propone una lettura comparata, tra pittura e scultura.
Eugenio Tibaldi e l'Abruzzo
Al via 4 bandi di MIBAC e SIAE per la creatività: 12 Milioni di euro per gli under 35
Trittico d'autore per la MM Contemporary Dance Company
A Torino "New Desire", l'omaggio alla regista e artista Chantal Akerman
Qui New York. La fotografia di Francesca Magnani
Dream Beasts. Le creature cinetiche di Theo Jansen in mostra a Milano
Artemisia a Londra. L'editoriale di Gabriele Finaldi
Londra, la terrazza di Herzog & de Meuron della Tate Modern accusata di violazione della privacy
Relazioni e tecnologia. Cécile B. Evans a Napoli
Ponte Morandi a Genova. Pinksummer lancia un bando per una riflessione sulla tragedia
Flying high. Le donne dell'Art Brut a Vienna
Il collezionista dallo "spirito di caccia": conversazione con Maurizio Vetrugno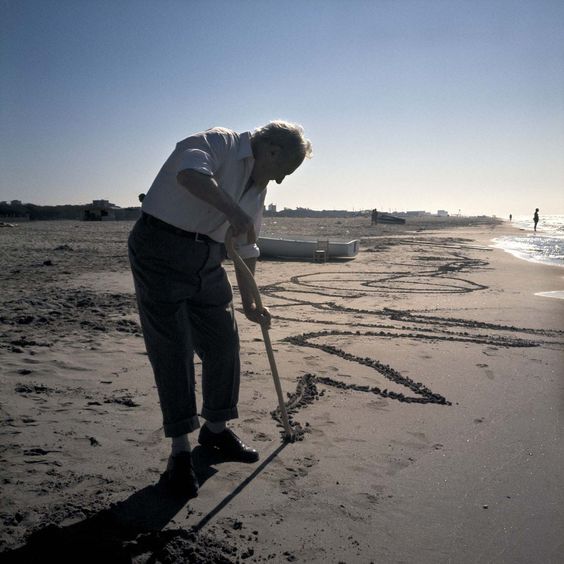 Foto del giorno: Joan Miro fotografato in spiaggia da Ralph Hermanns (© Fundació Joan Miró, Barcelona)
Free to Roam. Il nuovo videoclip di Massimo Giangrande
"Grand Tour en Italie": in mostra da Assab One a Milano, un racconto corale sulla città di Palermo
Arte in pillole. L'Autocurriculum di Emilio Isgrò