Retired Auto Exec., Dedicated cyclist, snarkist, doubting thomas, wilting optimist.
Statistics
We looked inside some of the tweets by @rhugh4791 and here's what we found interesting.
Inside 100 Tweets
Time between tweets:
7 days
Tweets with photos
11 / 100
Tweets with videos
5 / 100
Let us all get a grip, leaders talk to leaders, trust is hard and important, the world watches.
Quoted @krassenstein
Trump told the New York Times: "virtually every Democrat says there's no collusion". If you are a Democrat who doesn't say "there's no collusion" please RETWEET this!
What he said, no not the liar.
If I may, opinions are like assholes, we got them, sharing is cool is good dismising, not so much.
And the world measures America by Trump.
Rules are simple, ignoring them are exemplary if you have a better thought, sorry Trumpy, we are waiting.
Let us all take a short step back, he said she said is easy, the world works when persons do it, poltics mess it up and wars ensue. I Got votes, food, rights and the simplicity of farting if I need.
People are simple, politics are people thinking insular, people die while politics aggrandise, people.
Trumpy's address to the nation. My reaction? "Insanity is doing the same thing over and over and expecting a different result." Rita Mae Brown wrote it, Trumpy lives it.
It seems "Madame Secretary" offered a solution to the border difficulties, jail a DC leader. My choice is Trumpy just because . . . . well . . . . . he belongs there anyway.
Trumpy couldn't even do his own bone spurs, daddy had to do it. He must be quietly contemplating that or his zookeepers are hiding his Twitter machine so he doesn't screw up the markets worse. Or Melania likes him better in the straight jacket.
Madam Secretary tonight showed what is happening, moral authority from television, who knew. Delightfully Brave. #MadamSecretary
Real billionaires build for the future, into space, auto transportation, posers stamp their feet, bluff and pretend. Real listens, posers sort their crayons and deny help from the more capable.
Life is simple, truth good, lies bad, self is for helping, mememe is tiresome, wasteful and insecurity in personal abilities.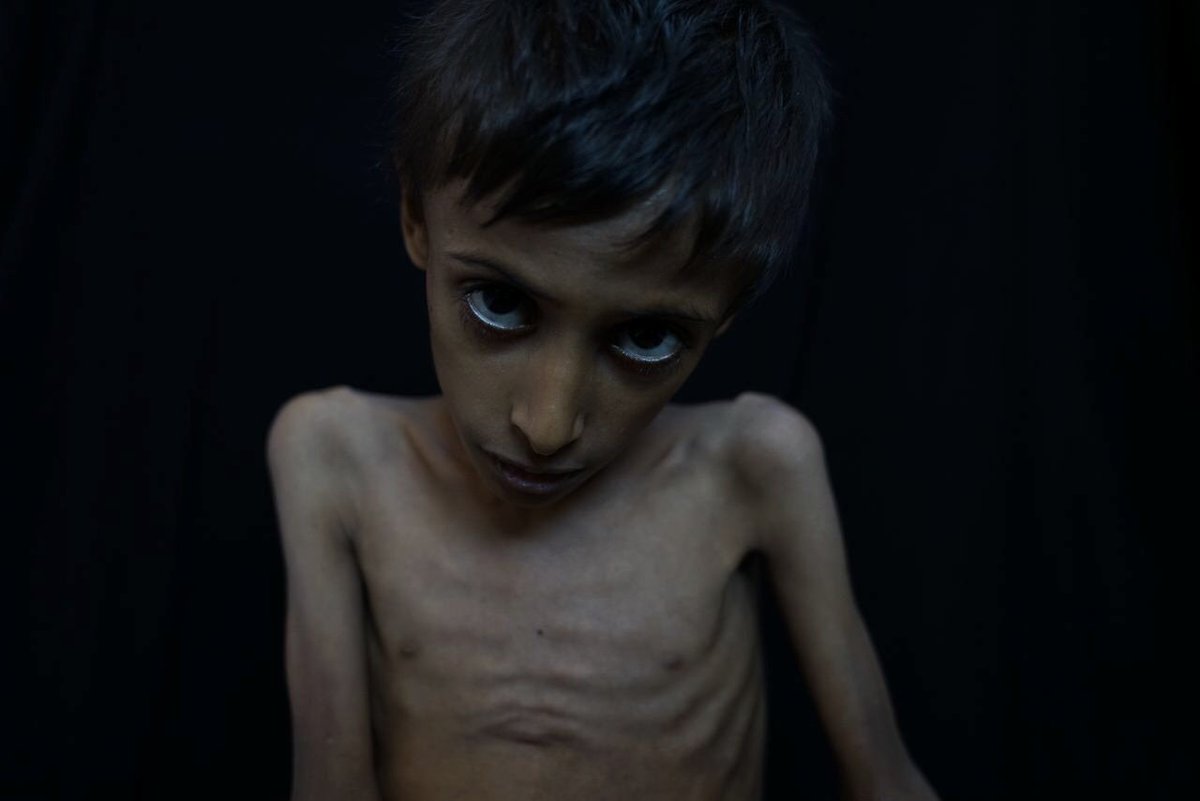 My Sunday column is from Yemen where 85,000 kids are already dead, not from drought but from Saudi/UAE/US policy. The Saudis try to keep reporters from Yemen because they don't want you to see images like these. Our tax dollars are going to starve kids. https://nyti.ms/2G5fkK4