Statistics
We looked inside some of the tweets by @vijaycindia and here's what we found interesting.
Inside 100 Tweets
Time between tweets:
2 days
Tweets with photos
0 / 100
Tweets with videos
0 / 100
One of the coldest BLR mornings I've experienced in the past decade.
MG Road Metro station looks deserted today....
Poison of Love by K R Meera(translated by Ministhy) is tragically beautiful and graceful.
A Kitchen In The Corner Of A House has moved me. The ending shook my earth. "You will be genderless..... will be the you who is released from that".Gonna hunt down the Tamil version of it and read more works of her whenever possible.
To make my breathing issue harder, fireworks are making a comeback after Diwali. Anyway, Happy New Year.
And yeah,finally the season got better of me.
Inhaling Eucalyptus leaves and oil vapours is one of the most relaxing experiences.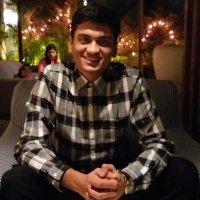 You know that feel when you're bathing and your soap slips outta your hand, so you try to grab it before it falls on the floor and it slips again this time with added momentum so you just accept your fate that you'll have a dented soap from now on? Yeah. That's life rn!
The way people lost their shit just by an update on Instagram says a lot about our generation. How afraid we are of changes.
They guided us to the right spot(coach position); benefits of such people visiting a place regularly.
And now they're ranting about how Modi is stripping the middle class off their wealth, whilst making the rich, richer...
Now they're conversing about Fixed Deposit interest rates in Tanglish.
They're sharing their stories of how they evaded it so far like justifying that they gave it to their daughter and for other stuff.
I'm waiting to board my train at Virudhunagar Junction, and I'm surrounded by a bunch of retired grandpas discussing about legal ways to evade taxes. "Came across this on WhatsApp,so I checked it. It's true", a grandpa.
A farmer(woman),in her 50s, places a tied bunch of nellu(rice) in front of passing vehicles and seeks monetary help on the service road of a bypass to Madurai. It was a disheartening sight, especially to my grandpa and parents as they've all been directly involved in farming.
Reminds me of US domestic surveillance program for which Obama was kind enough to deliver a presidential apology. I don't or leaders would do that even if caught. Also, Now is the time of an Indian Edward Snowden's birth. Brace thyselves!