We looked inside some of the tweets by @AndyTarsy and here's what we found interesting.
Inside 100 Tweets
Time between tweets:
an hour
Tweets with photos
11 / 100
Tweets with videos
5 / 100
Prepare for an entry-level IT support job in just 5 months with the BFIT-Google IT Support Professional Certificate. No experience necessary. Classes begin July 13. Program currently open only to BFIT alumni. Tuition is just $250. Apply at https://t.co/h2FfnmxQik https://t.co/7jcdvuvz7T
ICYMI: @DevalPatrick's appearance on @CNN this morning cutting through the noise and getting to the heart of the issue. "What we need is healing. What need is for him to call for calm. What we need for him to do is to express some empathy for the issues at stake and a plan." https://t.co/u1yKixN1xh
RAMON "RAY" VASQUEZ, 65, of Pocatello, ID. He was a humble family man and outstanding cook who loved driving his truck, harvested fields his whole life, and was always looking for a way to help someone else. More via @BrittniNews https://t.co/Psha2ryHGV
Nina Forbes wanted to be a nurse since she was a child. At age 50, she went back to school for her degree. She died from COVID-19 on April 25 after contracting the virus at the facility where she worked. Her family says she worried about lack of PPE. https://t.co/TOc1C1rHU4
A tangible action you can take: hire an intern of color this summer. We have 75 fellows in this year's @Hack_Diversity cohort. Many are still looking for paid software/IT internships. This isn't charity. It's a strategic advantage to have talented interns who happen to be black. https://t.co/075s1kI8eC
Quoted @Alnylam
We stand with the Black community and all people of color. Systemic racism and exclusion of any kind cannot be tolerated. We are our greatest as a society when we treat everyone with dignity, respect and in the same way we would wish to be treated by others. https://t.co/9igeKxoJb0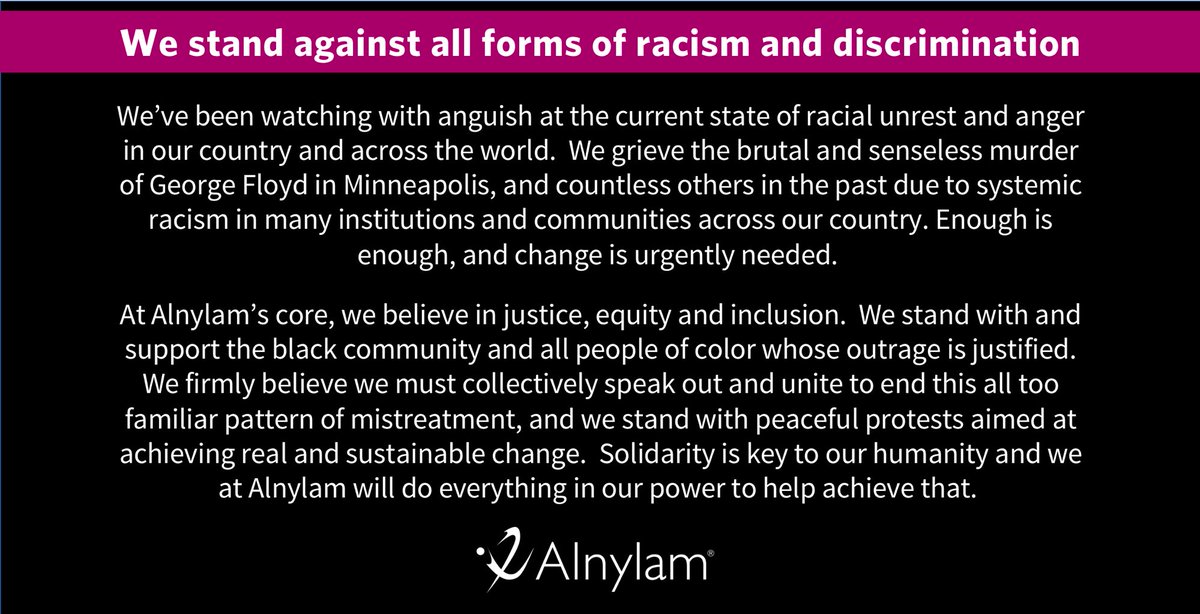 It's time for all of us (including employers) to take a stand against racism, bigotry and exclusion and emphatically say "NOT IN OUR COUNTRY." But our actions must extend beyond this moment and become behaviors and efforts that truly affect real change! https://t.co/uIsSnjh9Cn
I've seen some reference to the non-lethality of rubber bullets. I was a freshman at @EmersonCollege when Victoria Snelgrove was shot in the face by a police round and killed in Kenmore Sq. during the Red Sox celebration after beating the NY in the ALCS. The bullet was rubber.
"The ember on the tinder of accumulated neglect, outright racism, and racial inequities has caught on fire." Read the full letter from the Temple Israel Clergy, and the see six things our community can do today in the fight for racial justice: https://t.co/hnuMuUySS7
Quoted @OwenResistor
I am proud to announce that as of the end of today, I am no longer a Facebook employee.
Good for you. Not judging others just applauding those who know they are following their conscience. https://t.co/IWGDxvpwfv
Quoted @velvetart
General Milley, chairman of the joint chiefs of staff, walking the streets of Washington DC right now. Briefly spoke to say he is observing the situation. https://t.co/fHcYOTYMzN
There is absolutely no reason for the Chairman to be walking the streets right now. This is not even remotely in the tradition of U.S. civil-military relations. https://t.co/gN7FZwD2lC
NEWS: A Twitter account claiming to belong to a national "antifa" organization and pushing violent rhetoric related to ongoing protests has been linked to the white nationalist group Identity Evropa, according to a Twitter spokesperson. https://t.co/tvqApOJ2pV