We looked inside some of the tweets by @Coweta4Trump and here's what we found interesting.
Inside 100 Tweets
Time between tweets:
44 minutes
Tweets with photos
5 / 100
Tweets with videos
5 / 100
Quoted @SteveGuest
CNN's Chris Cuomo: "Please, show me where it says protesters are supposed to be polite and peaceful." As riots and looting have broken out in cities across the country, this is the message the brother of New York governor Andrew Cuomo shares at the top of his show. https://t.co/ZZ47zpyVlx
Here's @CNN's @ChrisCuomo carrying water for violent criminals burning down communities and saying that he doesn't think protests are supposed to be "peaceful." Imagine saying that less than a day since Captain David Dorn was killed in cold blood by looters? Truly disgusting. https://t.co/LS34pNZVVV
For nearly a whole day, the media reported the use of tear gas in DC's Lafayette Park with no evidence. We now know it wasn't true. Every news organization which reported the tear gas lie should immediately correct or retract its erroneous reporting. https://t.co/DesRIuN135
Must watch video destroying the media's BS narrative that those rioting, looting and burning down communities are "mostly peaceful protesters." The MSM refuses to accept reality & will do anything to protect Democrats and defend the lawlessness we're seeing from the radical left! https://t.co/4ZnMkXKv4a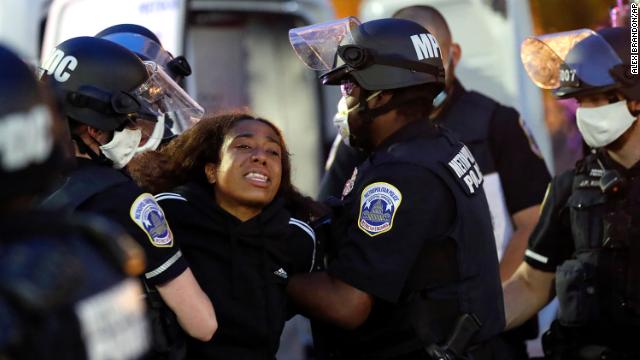 The "protesters" who injured 50 Secret Service law enforcement personnel and set St. John's Church ablaze? Those protesters? Are you literally incapable of reporting the truth, CNN? #FakeNewsCNN https://t.co/wSU40aDF4k
Quoted @DrewHolden360
Conservatives aren't mad because there are protests. We're mad because ALL OF YOU said we were evil for suggesting mere weeks ago that some things are too important to keep locked down. Don't remember? Well, lucky for you, Twitter is free and the internet is forever. THREAD.
If there's one thing you read and retweet today make it this! RT https://t.co/94hoyZZRkI
[DS] Power Structure Dismantled, Think Military, Think Arrests, Good & Green – Episode 2190 https://t.co/JO6zD5yoGi
Obama Founded Antifa In 2008, he told us he was going to do it! Let me add my chant: "LOCK HIM UP", "LOCK HIM UP"! (I follow back all Patriots.) https://t.co/WJ4CqwVa0y
This idiot wears a mask to torch a police car but forgets to cover his distinctive neck tattoo 🤣😆 now he's arrested and in federal custody https://t.co/hyppjXhEOB