We looked inside some of the tweets by @alastairdick and here's what we found interesting.
Inside 100 Tweets
Time between tweets:
31 minutes
Tweets with photos
5 / 100
Tweets with videos
0 / 100
I've just gone out and started an illegal war in Iraq killing hundreds of thousands of innocent people. Well, I thought, if it's good enough for Alastair... https://t.co/nayDFDC8V5
Quoted @BethRigby
Durham Police statement. - Concludes DC didn't breach regulations going to Durham - Barnard Castle might have been a minor breach of regulations and police would have asked Mr Cummings to return back to his address. - No intention to take further retrospective action https://t.co/4gE7B1aFFW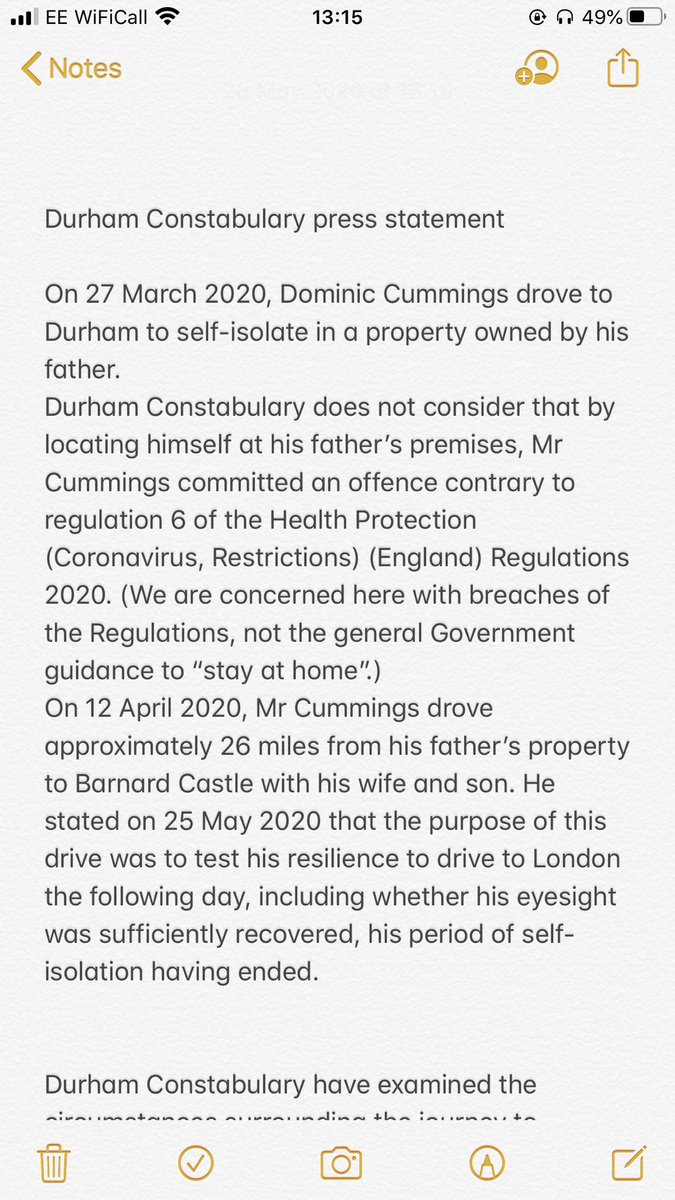 And yet this poor man and his family have been vilified, persecuted, harassed, falsely accused, lied about by the press, witch hunted, stalked by a mob and his elderly parents made a target, all thanks to our toxic media, including Sky News. Where is the apology? https://t.co/Tzv1IhVtdY
Quoted @lmharpin
Also hearing senior figures within Hampstead and Kiburn Labour Party under investigation over antisemitism allegations.
What about Islington? Could start with the sitting MPs. https://t.co/GmI77pB8QK
@Femi_Sorry @afneil We? Is that the royal we? And just who are you anyway? We will only know when you tell us who your paymaster is ... you are are a "bought" boy ...
Far too many are still being infected every day. To see why, you don't have to look further than my own high street where most don't adhere to the 2 metre rule. Their ignorance or folly impacts everyone else. Runners & pavement cyclists have become a constant hazard too. #Dumb
Quoted @MrTardigradeUK
Good morning GREAT Britain . Once again I share what is probably the most important little film around at the moment. It is crucial everybody understands what is really happening. Please RT. https://t.co/WRKQpfzLe5
Brexiteers...watch the video that Ian has dug up. Guess who the first EU leader was closely affiliated with? I think you know...watch. https://t.co/rfgLUNhib9
How will people in government now interact with a man who has been given the most extensive, public and costly support by the PM, asks James Kirkup https://t.co/cSCeiYBkc4
Quoted @Femi_Sorry
@afneil This is concerning coming from you. I do rate you. We'll ignore you sharing Guido Fawkes articles as a source and focus on the fact that you know Nissan's business model becomes unsustainable in December, so why promote a narrative that has an expiry date? https://t.co/LT8ENvVud7
And I rate you. But not when it comes to the car industry. The article you retweet is 7 months old. A lot has happened to the car industry since last October. I doubt Nissan would close Barcelona to concentrate on Sunderland only to close Sunderland in six months time. https://t.co/qBNMnD9Zwg
Novelist Anthony Horowitz writes in the Spectator, in an article he says was commissioned by Dominic Cummings' wife Mary Wakefield, about his anger at the government's defence of Dominic Cummings. Which, to be fair, is a decent example of unbiased editing. https://t.co/GaiCEWP3ho
Dominic Cummings' survival increases his power, by demonstrating he has the PM's absolute backing. But good government needs internal challenge - who will stand up to Cummings now? https://t.co/908bB007El
I'll correct this headline: Labour activists bombard MPs with tens of thousands of emails over Dominic Cummings https://t.co/uPPkhsD449
Quoted @sugaracre
@RuthDavidsonMSP Aye, with more electric pennies on the never never. You may button up the back, but I'm sorry , we don't.
Not quite sure how @sugaracre thinks an independent Scotland would have been able to provide the same level of support, but that's the thing isn't it. There is simply no economic case for separation. https://t.co/N2wNX7XELy