We looked inside some of the tweets by @at_clausen and here's what we found interesting.
Inside 100 Tweets
Time between tweets:
4 hours
Tweets with photos
0 / 100
Tweets with videos
15 / 100
Quoted @ragepath
So, apparently you have the freedom to assemble, but good luck getting there. No buses allowed through or past downtown. Elderly woman trying to reach Berkeley was told no way to get there tonight. Curfew isn't for 2 hours. https://t.co/3TavrgarKy
@e_baldi It's not an accident that the crowds are smaller. They cut off all access to downtown by mass transit hours before curfew. https://t.co/bUwLzlp6v5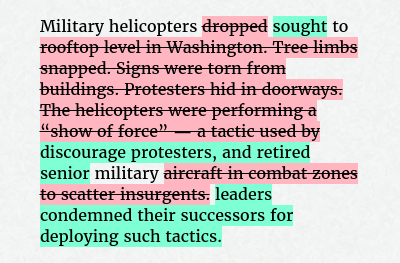 This is as egregious as it gets. If I had one of the bylines on the story, I'd be fucking furious. https://t.co/1FoLrfNjU0
These protesters in Seattle are literally chanting "we don't see no riot here, take off your riot gear" & doing nothing else but standing peacefully when the police start throwing tear gas & firing into them https://t.co/Bde3XQC27f
National Guard posted up at Natomas Marketplace here in Sacramento. They're also across the street at Target. Streets are like a ghost town. https://t.co/eKNnYevgkU
Quoted @NYGovCuomo
The president is calling out the American military against American citizens. He used the military to push out a peaceful protest so he could have a photo op at a church. It's all just a reality TV show for this president. Shameful.
Andrew Cuomo and Bill de Blasio doubled the number of police who will be on the streets tonight after watching them spend the last few days beating protestors and ramming them with cars https://t.co/30cWCpb21P
Quoted @ACSOSheriffs
Reports of a Tiger on the loose near the Oakland Zoo. If you see it call 911. 98th Ave at Golf Links.
This is the most aggressive curfew announcement I've seen yet. https://t.co/7G3nsQHSCQ
Quoted @ACSOSheriffs
Tigers are all accounted for at the Oakland Zoo. They just checked and confirmed.
Maybe, you know, check on this BEFORE tweeting the rumor? https://t.co/GQtU0v1iYv
Forgot to add this visualization from @stuartathompson. It's not hypothetical. The data we reported on last year(we've since deleted) identified protesters at the Inauguration and Women's March in 2017. The trails would then lead to wherever they went after, including their homes https://t.co/pOFQXEx3kO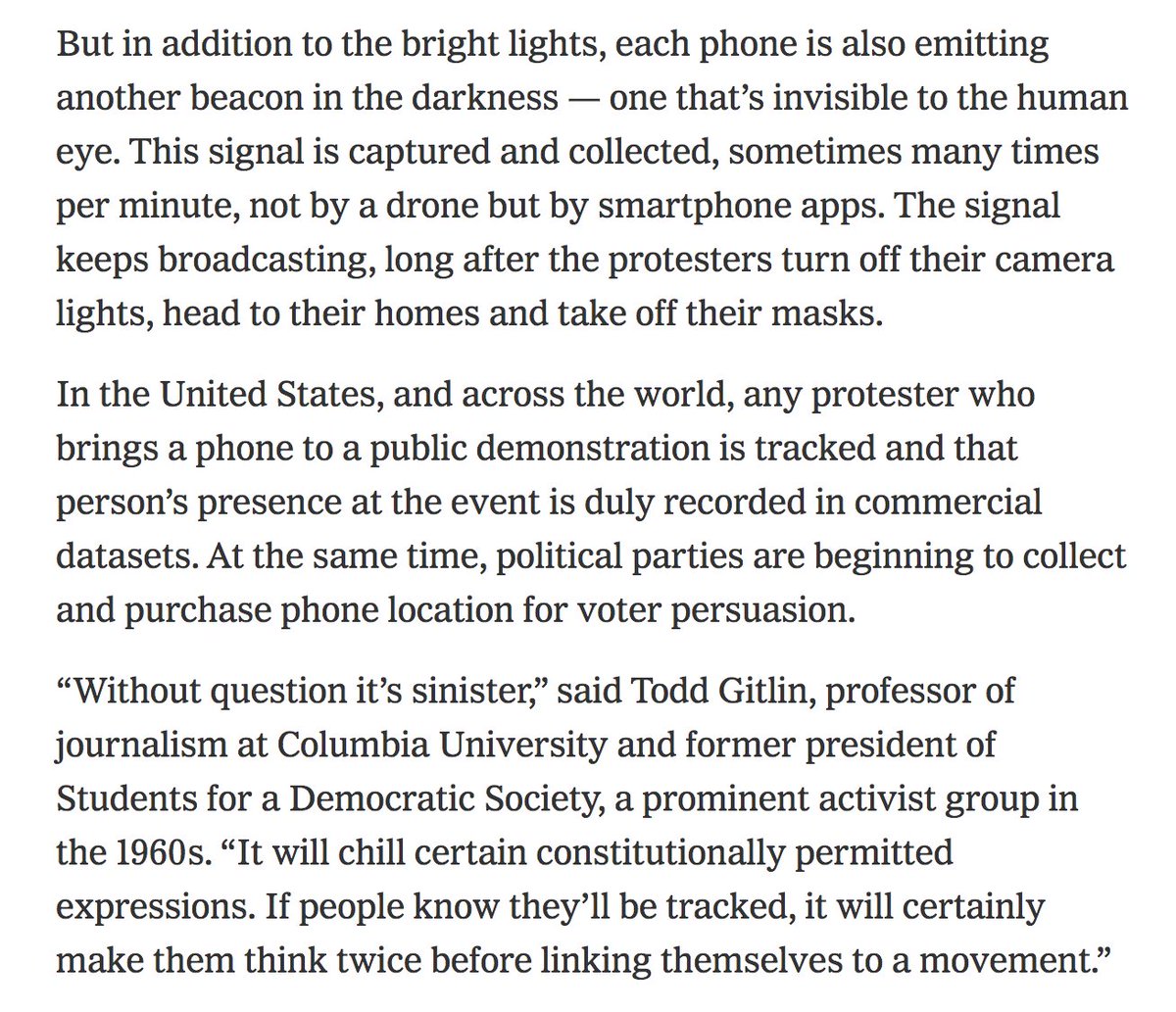 Basically: "In the United States, and across the world, any protester who brings a phone to a public demonstration is tracked and that person's presence at the event is duly recorded in commercial datasets." https://t.co/admz1ns2J0
Quoted @JStein_WaPo
Reached out to half-dozen Hill aides — Tl;dr: Nobody thinks Congress will move anything at all in response to mass protests across major cities House is out in June. Senate may confirm more judges. "No chance," one says of a legislative response
"just go vote that will solve our problems" https://t.co/nTXPTbaHwX
Quoted @chadloder
A reporter interviews a #Minneapolis nurse who was working at the medical tent, treating a man bleeding badly from a rubber bullet wound. Military police opened fire on the nurses, storming their tent. "I told him I wouldn't leave him, I feel so bad" 😔 https://t.co/H0RpwwCdgD
reminder that in international conflict attacking medical personnel is considered a war crime https://t.co/G4iJdZlCOZ
Quoted @daviddebolt
Breaking: U.S. authorities are calling the killing of a federal security officer in Oakland an act of domestic terrorism, per the Associated Press.
Three immediate questions: Why so quick? Why aren't mass killings labeled similarly? How will this be used to prosecute the detained last night and at future protests in this country? Because there will be more. https://t.co/pEkv4bYn8C