We looked inside some of the tweets by @tool_pen and here's what we found interesting.
Inside 100 Tweets
Time between tweets:
4 hours
Tweets with photos
5 / 100
Tweets with videos
5 / 100
The Michael Flynn-Amb. Kislyak calls that Grenell has declassified are written summaries of the calls, not audiotapes. The summaries are not full transcripts, leaving the reader unable to know what's been left out, former Trump admin officials tell @JoshNBCNews and @carolelee.
Disturbing new video shows another angle of George Floyd being restrained by police and saying he can't breathe before his death. https://t.co/bQAb6khN5A
Transparency is needed?? I agree. How about your admin turn over tax returns, comply with congressional subpoenas, and stop selectively (and illegally) using classification to hide politically damaging information. THAT's transparency. https://t.co/pNoxWOgZNT
"Can you smell through that mask?" Rep. Clay Higgins said. "Then you're not stopping any sort of a virus. It's part of the dehumanization of the children of God." What a contingent of Rs told me about not wearing masks despite urgings of the Capitol doc: https://t.co/CBGnz4ocvC
Quoted @RichardGrenell
I'm being deceptive?! I'm for transparency. You DC types hide the details from the American people and then go on TV and say something they can't check. It's the DC way. And it usually works - until Americans see the details (i.e. the hidden transcripts). https://t.co/roUy5Xicxt
As I'm sure you are aware, the Democrats tried for months to release the transcripts but your admin blocked them. No individual fact witness can determine whether there was collusion. But they can — if/when they tell the truth — provide *evidence* of collusion, like Jr's email. https://t.co/Fu69rmM4RW
Broward Sheriff Gregory Tony concealed his past,and a lie detector didn't catch it, records show https://t.co/J0lJQhwcbS
NOT GOOD. "The draft order also requires the Attorney General to establish a working group including state attorneys general that will...monitor or create watch-lists of users based on their interactions with content or other users." https://t.co/u0VE9g9s1E
This EO is a reactionary and politicized approach to a landmark law. #Section230 protects American innovation and freedom of expression, and it's underpinned by democratic values. Attempts to unilaterally erode it threaten the future of online speech and Internet freedoms.
Quoted @ThePlumLineGS
Trump's campaign is signaling that all scrutiny of his lies will be cast as Bias Against Conservatives. This ref-working goes back years, of course. But now they're claiming the right to lie with impunity about measures that could literally save lives. https://t.co/A9qM2Zq7RY https://t.co/0lWrLitV2o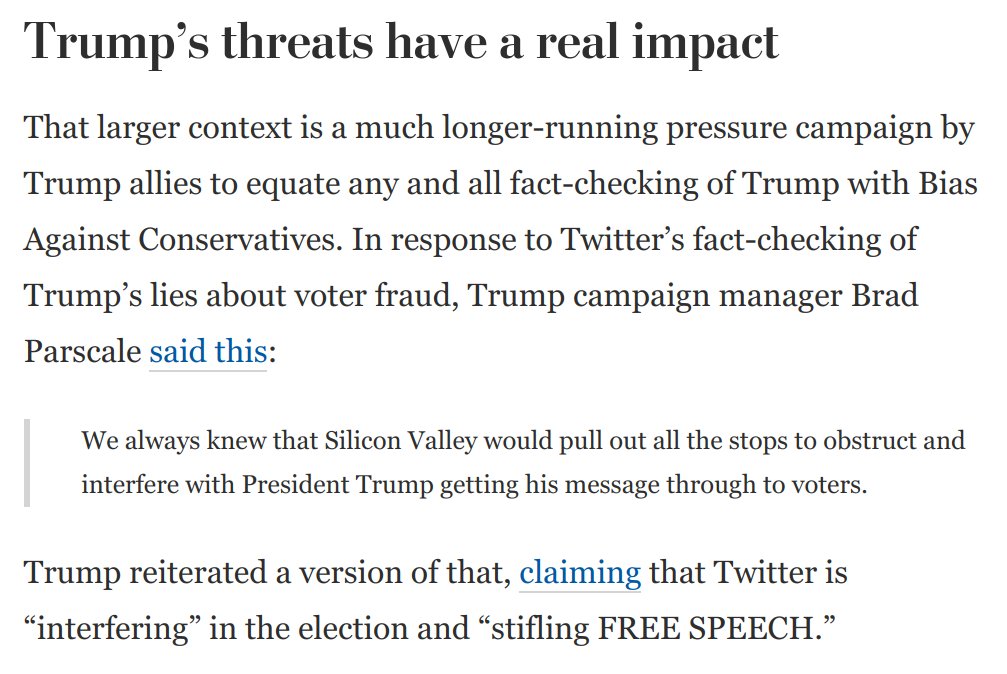 We need to be clear on one point. Trump is punishing Twitter for the act of *supplying voters with information* educating them on voting options amid a pandemic. The sin here is that Twitter did this in a manner that undermined Trump's deranged efforts to mislead them with lies. https://t.co/faOzGU0gfR
We had to implement a simultaneous national shutdown of entire U.S. to slow covid epidemic because we didn't have systematic way to detect hot regions, and lacked targeted interventions. We have chance now to get the detection tools and cased based interventions in place for Fall https://t.co/jiapZ99UZm